A choreographic creation by
Serge Aimé Coulibaly
World Première on June 4th 2013
in Le Tarmac (Paris, FR)
---
Synopsis
There is a time at night, just before dawn, where evil demons come out of hiding and push around men they meet for fun.
Doubts that torture into trance, the need to find solidity in a time where every footstep encounters nothing but incertitude, a loss of bearings travelling to the terminus on a private journey… then coming back stronger with an instinctive animal energy and absolutely assured of a will to live.
This is the way of the man, swaying, shaky, but always finding his verticality.
Fadjiri is a pivotal play in Serge Aimé's work : in this extreme exploration, he found his own personal written language of dance ; urgent, a direct mirror of the labyrinths of thought, with no makeup, no concessions.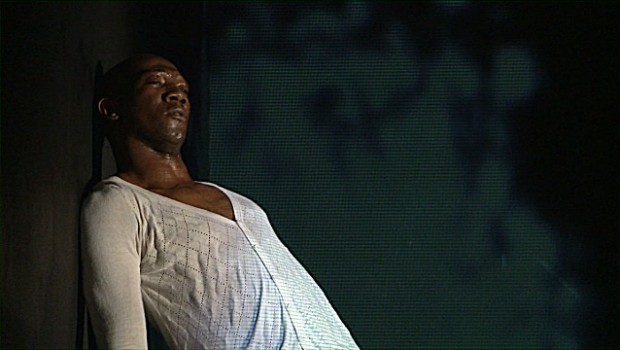 ---
The artists
Serge Aimé Coulibaly
Serge Aimé Coulibaly (1972), a Burkinabe/Belgian dancer and choreographer starts his career with FEEREN Company directed by Amadou Bourou, with which he tours in Africa and Europe, he also proves himself by choreographing the opening performances of the African Cup of football (CAN) in Burkina Faso in 1998 and of the FESPACO (Ouagadougou Pan African lm festival) in 1999. In 2002, he founds his own company, Faso Danse Theatre. That same year, he joins les ballets C de la B, where he successively interprets the Wolf and C(H)OEURS, by Alain Platel and Tempus Fugit by Sidi Larbi Cherkaoui.
In 2004 invited by the Australian company Marrugeku, he carries out a work of research and comparison of traditional aboriginal dances and contemporary dance and choreographs Burning Daylight in 2008. Simultaneously, Coulibaly develops his own work. He choreographs and interprets the piece Et demain… and creates the performance A benguer.
In April 2008, he creates Babemba, Faso Danse Theatre Company's new show. In 2009 he is invited by the national choreographic centre of Roubaix Nord Pas de Calais (Carolyn Carlson) to direct the Mappemonde project, a choreography with 45 amateur dancers.
On the rest of his popularity, Serge Aimé is solicited for the 2010 Nuit des Musées. Faso Danse Theatre presents Fitry at the Musée de la Piscine in Roubaix. Then, the company is invited to several African countries to celebrate the Independences Fifth's anniversary with Babemba. For the Palais des Beaux-Arts in Brussels Coulibaly creates En attendant l'indépendance.
In 2011 he creates and performs his solo Fadjiri at the Tarmac in Paris and starts collaborating with the stage director Moise Touré, on Aurélia Steiner and Maladie de la mort.
In 2014 Serge Aimé Coulibaly creates ANKATA, an international arts laboratory for research and creation, in his native city Bobo Dioulasso and he choreographs the show Nuit Blanche à Ouagadougou.
The Belgian cultural centre De Grote Post invites him in 2015 to create GLOED, a contemporary dance performance with more than 60 dancers (professional and amateurs) aged over 50.
Sara Vanderieck
Sara Vanderieck obtains her degree of Master in the Dramatic Arts – theatre directing at RITCS in Brussels.
After this intensive training, her urge to immediately start creating herself has faded somewhat. She searches for other positions in the theatre world. First she sells tickets at the Flemish Opera and later she works there as an educational worker.
Eventually Vanderieck falls into the position of production and tour manager for TG STAN (from 2004 to 2006: Poquelin, En Quête, Bérénice, "Redde wie zich redden kan" geen slechte titel, My Dinner with André, L'avantage du doute, Anathema, Impromptu, voir et voir) and TRISTERO (2006: Komedrie).
In 2006 she joins les ballets C de la B, first as production and tour manager for VSPRS and pitié! (Alain Platel) and Patchagonia (Lisi Estaras), later as artistic assistant to Alain Platel for Out of Context – for Pina and C(H)OEURS and to Lisi Estaras for Dans Dans and Leche.
In 2012 she leaves les ballets C de la B to join the artistic direction of De Grote Post, a brand new cultural centre by the seaside in Ostend.
She also starts working as a dramaturg/outside eye for different dance creations from then on.
She works with Claron McFadden/Muziektheater Transparant (Lilith, 2012), Serge Aimé Coulibaly/FASO DANSE THEÂTRE (Fadjiri, 2013; Nuit Blanche à Ouagadougou, 2014; GLOED, 2015; Kalakuta Republik, 2017), Bára Sigfúsdóttir (The Lover, 2015, TIDE, 2016 and being, 2017) Ayelen Parolin & Lisi Estaras (La Esclava, 2015), Platform K/les ballets C de la B/Lisi Estaras (Monkey Mind, 2016) and Naïf Productions (La Mécanique des ombres, 2016/2017).
In 2017 she adds another layer to her work. Together with artists Lisi Estaras, Serge Aimé Coulibaly and Mirko Banovic, Vanderieck creates When I look at a strawberry, I think of a tongue. (working title) in a collaborative process.
Yvan Talbot
For more than 20 years, this musician percussionist is posessed by the passion of the traditional musics of West Africa. Very attracted by the practice of rare and unusual instruments such as the bolon (three-stringed harp), the Baala drum of Guinée forestière or the n'goni Bissa of Burkina-Faso, he was introduced to the traditional instruments.
This strong African footprint brings Yvan Talbot to connect the worlds through music, collaborating with various musicians and choreographers. Thus, he met the Compagnie Julie Dossavi, of which he became the musical director in 2002. With this artistic team, he signed and co-authored the music of several plays. In 2010, he collaborated on Bouba and realized the original music of the choreographic duo murmures.
In addition to these creative activities, he regularly conducts various training programs, both with young audiences and musicians in the process of professionalization.
Eve Martin
Since 2006 Eve Martin has worked in various fields of video, film and television.
Primarily she is the author of her own works. She creates her own short films The Book of Lila (2008), Terra Sola (2012), Black Forest (2014) and develops the video installation Invisibles for Mons2015.
In dialogue, she creates video installations for stage performances by Serge Aimé Coulibaly (Fadjiri (2013) and Kalakuta Republik), Armel Roussel (Ondine), Thierry Debroux (The titanic doll, Les Misérables, L'Odyssee, Les 3 mousquetaires) and Sybille Wilson (the master of illusions).
And she realizes multiple music videos and live video installations for Two Star Hotel, Piano club, My little cheap dictaphone, Hollywood Porn stars, Deltron 3030, Yannick Frank, Maax and The summer rebellion.
Apart from the development of her own personal artistic work, she works in the audio-visual world as assistant to the director and director of casting.
Since 2011, she is also often hired as designer and set designer for various advertising videos, short and feature films and television series.
She works on the creations of Micha Wald, Bouli Lanners, Delphine Noels, Patrice Toye, Virginie Gourmel, Joachim Lafosse, Fien Troch, Eric Lavaine, Stéphan Kazadjan, Remi Bezançon, Michel Gondry, Brice Cauvin, François Xavier, Benoit Mariage, Tom Darmstaedter, Mathieu Donck and Eric Valette.

---
Credits
Concept, Choreography & Interpretation
Serge Aimé Coulibaly
Creation music
Yvan Talbot
Creation Video
Eve Martin.
Dramaturgy & outside eye
Scenography & costumes
Catherine Cosme & Caroline Mexme
Creation light
Nathalie Perrier
Production
Le TARMAC – La scène internationale francophone
Coproduction
Faso Danse Théâtre, Le manège.mons – Scène Transfrontalière de création et de diffusion
Subventions
DRAC Nord-Pas-de-Calais – Aide à la création
With the support of
KVS – Théâtre Royal Flamand
Needcompany
---
Press:
« The Burkinabé dancer and choreographer Serge-Aimé Coulibaly has a direct, contagious talent, overflowing with joyous and pugnacious vitality. In this solo called Fadjari, he decides to make his dance the motor for a dive down into the depths of being. »
Télérama Rosita Boisseau
« There are dances which glue you to your seat and then get you flying up to the ceiling, dances where laughter, looks and bodies are as one, dances where the spirit of the dancer is so close to their movements, there are dances like "Fadjiri" where the audaciousness can be applauded !  »
larevueduspectacle.fr   Safidine Alouache