"Men loved the earth so much that they devoured it; they consumed it completely. Then they
left because nothing remained for them. After their disappearance, nature grew and
constructed new lands" -Noémie Goudal
Moving between creation and destruction –THE LOVER contemplates the complex relationship between humans and nature. Bára Sigfúsdóttir makes space for different structures, rhythms and energies to exist and influence each other's evolution. The body and it´s environment keep transforming throughout the performance, questioning what is human, what is animal, what is nature, what is man-made, what is organic…
THE LOVER is a visual performance by Icelandic choreographer Bára Sigfúsdóttir, made in collaboration with visual artist Noémie Goudal, Icelandic musician BORKO and 88888. It got selected for the Circuit X network which promotes young
From "A dangerous wonder" by Evelyne Coussens in De Theaterkrant NL, 19 october 2015;
"The magic of The Lover lies in the way in which Sigfúsdóttir constructs an allegory for an ancient process of creation, rather than an anecdotal history: it is not a birth, but life itself that emerges, in jerky stages. The unelaborated and concentrated language of movement opens the floodgates of the imagination. And paradoxically enough, this impersonal approach has something spiritual to it as well: despite all the convincing biological explanations, the contemplation of origin and transience – even in a performative context – remains a 'miracle'. A dangerous miracle, definitely, but the way Bára Sigfúsdóttir makes palpable this disaster is also of great beauty."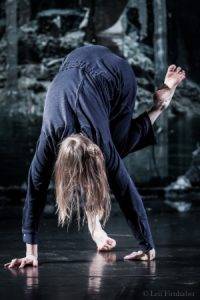 Concept, choreography and performance: Bára Sigfúsdóttir
Concept and photography: Noémie Goudal
Scenography: Noémie Goudal in collaboration with 88888
Music and sound design: Borko
Dramaturgy: Sara Vanderieck
Lighting design: Kris Van Oudenhoven
Costume: Andrea Kränzlin
Technics: Kris Van Oudenhove and/or Marlies Jacques/Bardia Mohamad/Jeroen Verrecht
Production: Curtain Call Productions
Coproduction: Workspace Brussels, TAKT Dommelhof, Vooruit (in the frame of the European Network DNA (Departures and Arrivals). Co-funded by the Creative Europe Program of the European Union.)
With the support of: wpZimmer, Dansens Hus Stockholm, de Warande, De Werf, CAMPO, Pianofabriek and Bora Bora Aarhus
With the financial support of: the Flemish Government, the Flemish Community Commission of the Brussels Capital Region, the French Embassy in Belgium (Service de Coopération et d'Action Culturelle (SCAC)
---
About Bára Sigfúsdóttir
Bára Sigfúsdóttir (°1984) is an Icelandic choreographer who studied contemporary dance at the Icelandic Academy of Arts, in the Amsterdam school of the Arts and lastly at P.A.R.T.S., the school of Anne Teresa de Keersmaeker in Brussels, where she focused both on dance training, movement research and choreography.
Bára has a unique way of researching and composing movement material which is articulated and eloquent, musical and one of a kind.  She creates out of a necessity to communicate towards an audience which gives her the potential to find truly unique movement material, evoked by improvisation processes. With this approach Bára positions herself within the dance field as many choreographers of today use and repeat recycled material. Her focal point for the past years has been to work with isolations of smaller segments of her body, applying different rhythms and to construct a layered material which constantly transforms – moving between clarity and ambiguity. Her dance is visual and imaginative, and her pieces are accessible for a broad audience while simultaneously having a growing impact within the international contemporary dance scene.
Bára's solo performances On the other side of a sand dune and THE LOVER have been presented at national and international venues and festivals, including Reykjavik Dance festival 2013, Stockholm Fringe 2013, December Dance 2013, ICE HOT Oslo 2014,  Performatik BE 2015, Theaterfestival BE 2015, Moving Futures NL 2015 and Theater Aan Zee 2015. THE LOVER was also selected for the prestigious Circuit X network, which enables 5 promising young theater makers to tour extensively in Flanders and the Netherlands.
As a performer, Bára has amongst others worked with Or and Oran dance company, Compagnie 3637, Miet Warlop (replacing in Springville), Quan Bui Ngoc, Iris Bouch & Kobe Proesmans, Aëla Labbe and Janne-Camilla Lyster.
---
Contact:
klaartje@ccproductions.be